Programs
Our centers have developmentally appropriate programs to meet the individual needs of children at various ages.  Our programs begin by offering safe, clean, positive and nurturing learning environments, which encourage independence, success, creativity and social and emotional interactions.
Toddlers / Twos: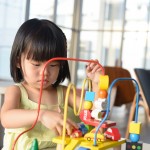 We understand that children learn the best when they are having fun and engaged in a stimulating environment.  In these classrooms your children will work on their gross motor skills, developing fine motor skills, color and shape recognition and overall development through play.  These classrooms are flexible and open so we may meet each individual child's needs.  Educational activities are informal and activities are hands-on, self-selected and self-paced.  The teacher will guide and support these children during their play, crafts, meals and other activities, emphasizing learning through discovery, problem solving, modeling and skill practice.
Preschool/Prekindergarten: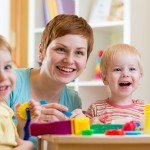 These programs enhance the skills and knowledge introduced to children in their earlier years, promoting learning colors, shapes, numbers, letters, and writing skills to prepare them for kindergarten.  Children are offered a more structure environment that adapts to fit the needs of each individual child.  Teachers encourage independence and developmental growth through age appropriate curriculum and material.  These programs offer learning through play and activities such as art, music, science, math, special events and outside exploration.
School Age: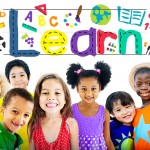 The school-age program provides a developmentally appropriate curriculum that meets the individual needs of children.  Our programs are designed for each year of development beginning with age 5 through 12 years.  The children are included in the planning and development of the program to ensure the program meets the interest of the children, while maintaining a teacher directed structured environment that is modified based off the needs of each individual child.  The program offers a variety of activities such as crafts, reading, homework time, open ended play, outside exploration, special events, field trips, fully enriched summer programs and more.
Our qualified and caring staff encourages children to have fun and enjoy their experiences with us as they learn and grow! 
Click here to learn more about the HighReach Learning Curriculum we utilize in our learning centers. 
Click on a topic below to learn more about our program features!
We provide the provide the same great learning experiences as our competitors with more affordable rates.

Our Children's World Early Learning Centers of Frederick and Walkersville serves children 18 months through 12 years of age.

The Learning Tree Early Learning Center of Brunswick serves children ages 2 to 12 years old. 

Our Brunswick Elementary Before and After School Program provides care and transportation for Brunswick Elementary Students.  

We offer various year-round options in our modern facilities including full-time, part-time, daily, hourly, drop-in and summer care options designed to help with your busy schedule

Our Hours of operation are  6:30 AM – 6:00 PM at all of our convenient Frederick County Maryland learning centers. 

 

We serve a fresh and nutritional Breakfast, lunch and afternoon snack at our Walkersville Children's World Early Learning Center.

A nutritional breakfast and snack are prepare fresh at our Frederick Children's World Early Learning Center. Parents please supply lunch.

Children enrolled in our Brunswick location will receive parent provided meals only.

Each of our centers feature separate playgrounds for different age groups complete with age appropriate activities and play equipment designed to promote gross motor activity and creative play.

Our Learning Centers strive to create an enriching fun summer program!  Activities may include vary by center and may include

Swimming/Water Play
Roller Skating
Bowling
Mini Golf
Petting Zoo
Magic Shows
Puppet Shows
Moon Bounce
Gem Truck
Field Trips
Nature Walks
Curriculum,
….and Many More Activities!

(Summer Activity Fees May Apply)

Our qualified and fully trained staff are certified by the Maryland State Dept. of Education, Office of Childcare, as well as First Aid and CPR certified.

Our child care facilities offer before and after school transportation to local area schools contact your local center for details

 

We gladly participate with and accept Social Service and Purchase of Care Vouchers.